Museum of human anatomy of SUMPh "Nicolae Testemitanu" is more than a simple display of exhibits – it is a unique collection, popular at international level due to the number and quality of artifacts it includes.
Senior assistant E.M Koblik-Zelter (1968-1989) directly contributed to iconographic / illustrative design of most scientific theses and publications written ​​at the Department. Impeccable images of macro-, macromicro and microscopic anatomical pieces made by him, truly adorn the scientific papers written by teaching and scientific staff of the Department and show the veracity of the scientific results obtained.  
Scientific investigations conducted by Professor B.Z. Perlin, on nervous system of conjunctival formations in conditions of norm, pathology and experiment are widely known in the country and abroad, many of which are related to national and international congresses.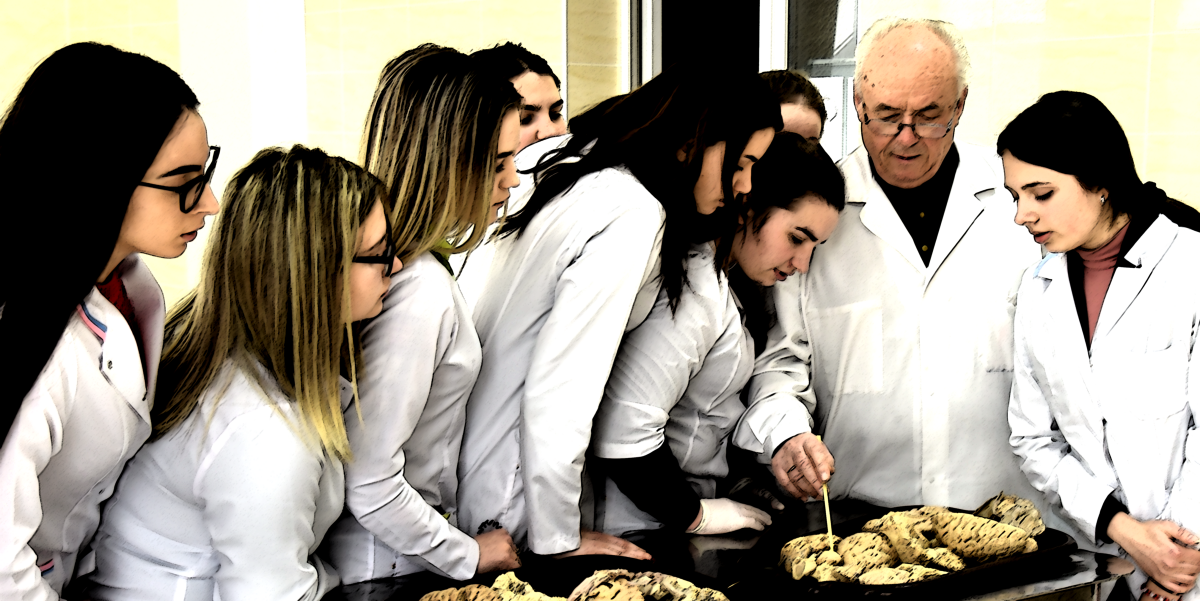 At that time the training of young lecturers occurs both by having courses of subinternship and continuing training, in the Institutes of Medicine in Moscow, St. Petersburg, Kiev, etc.
In 1965 the Department moves to the current Morphology study building, adjusted to the requirements of the training process by B.Z. Perlin and I. Popazov.
After moving to a new building, much better equipped, optimal conditions for theoretical and practical studying of anatomy, for organization of the museum of anatomy, which is a visiting card of any department of anatomy and institution of higher medical education, were created. 
The new conditions made ​​it possible to considerably extend the museum of anatomy and to replenish its funds. All the staff of the department contributed to the organization of the museum, in particular B.Z. Perlin, G.V. Vincenko, senior assistants I. Popazov, E.M. Koblik-Zelţer, N. Leşcenko and J. Pavlenko.
Furniture for museum rooms was made based on drawings prepared by professor, B.Z. Perlin.
Painstaking work of organization and completion of the museum with new exhibits takes place at the initiative of the head of the department. The staff of the department has made the maximum effort, demonstrated will and skills for making museum pieces. Due to their work, in the period 1965-1971, the museum was reorganized, being completed with a huge number of new unique pieces. At present, the museum of the Department of Anatomy has one of the most valuable and impressive collection of unique anatomic pieces, being among the few of its kind in Europe, highly appreciated by numerous specialists from CIS and other countries, who visited it.
The museum enjoys great popularity, playing an important role in spreading knowledge about man, morphological and functional peculiarities at different stages of pre-and postnatal ontogenesis, the influence of different harmful factors and the way of life on the activity of organs and organ systems. It is much sought and visited by pupils and teachers of schools from towns and villages of the Republic, students of colleges and universities of our country and numerous …from abroad, members of different community organizations, etc.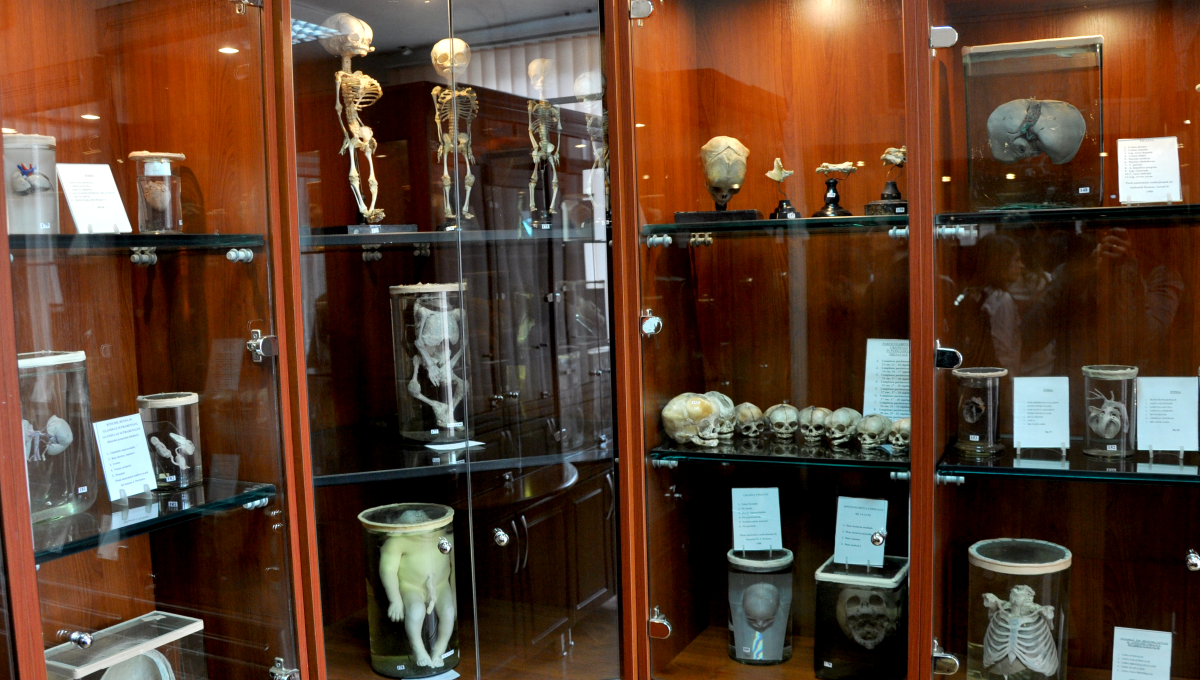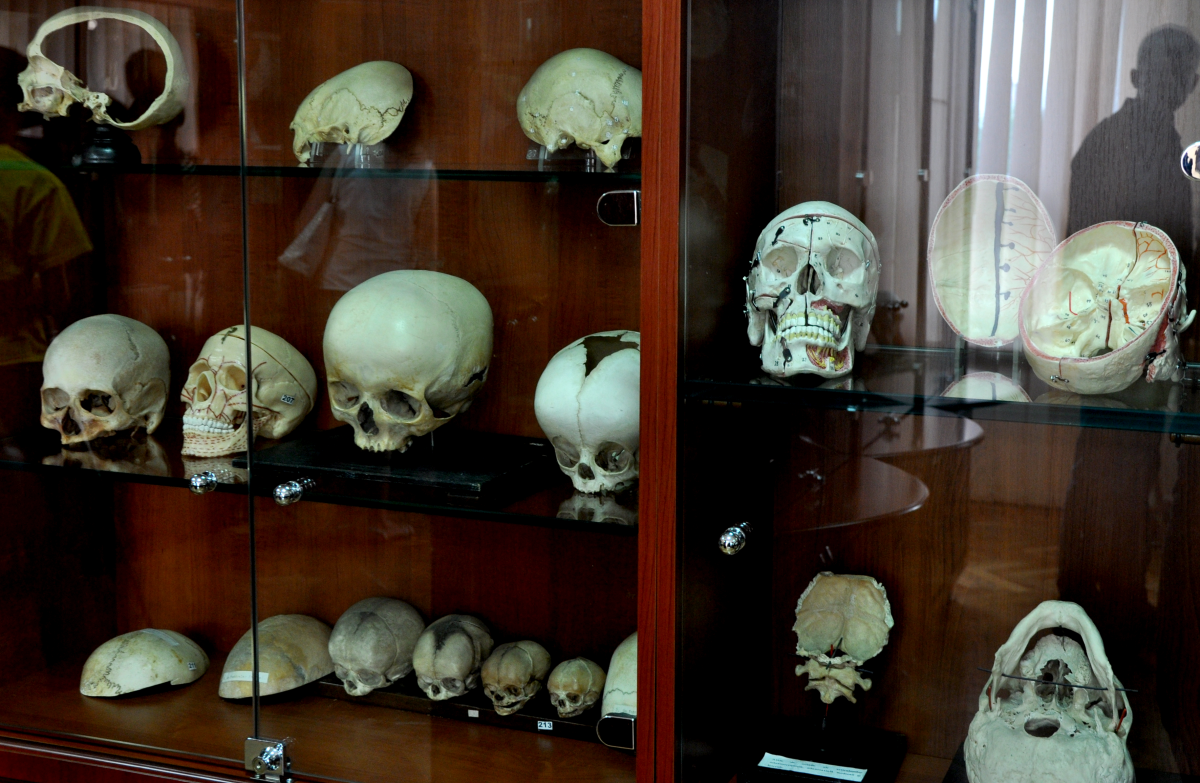 Anatomical pieces were made by the staff of the department as a result of the scientific research: professors, B. Perlin, V. Andries, N. Cherdivarenco, M. Stefanet, I. Catereniuc, associate professors, G. Vincenco, E. Gherghelegiu-Poburnaia, T. Lupascu, E. Lopotenco, assistant D. Stratila etc. Their works were exhibited in five rooms of the museum, and since they provide images of perfect quality, they have illustrated several specialized editions, published in the country and abroad. Thus, we mention the famous atlases of human anatomy (Синельников Р.Д., Синельников Я.Р. Атлас анатомии человека. Т.IV. Москва: Медицина, 1989) and that of the autonomic nervous system, edited by P.L.Lobko((Лобко П.И., Мельман Е.П., Денисов С.Д., Пивченко П.Г. Вегетативная нервная система. Атлас. Минск, 1988), monographs, manuals and other methodical and didactic works written at the Department etc.
A group of collaborators (A.V. Popa, A. Nastas, V.I. Covaliu, T.I. Lupascu, M. Casian), led by associate professor V.T. Jita, translate from Russian into Romanian and publish in Romanian the manual of Normal Human Anatomy, by N.K. Lisenkov, V.I. Buskovivi, M.G. Prives (1968).
Scientific research conducted at the Department during this period resulted in 5 PhD theses – B.Z. Perlin (1967), V.T. Jita (1971); N.V. Cherdivarenko (1977), V.N. Andrieş (1988), M.I. Ştefaneţ (1998) – and over 30 MD theses, defended by N.M. Fruntasu (1964), I.V. Kuznetova (1965), A. Nastas (1969), M. Chiorescu (1970), V.N. Andries (1970), V. Covaliu (1971), T.I. Lupascu (1972), M.I. Stefanet (1972), Gh. Nicolau (1973), V. Voloh (1973), D.G. Batir (1980), E.S. Besliu (1988), E.V. Poburnaia (1993).