Noutati
Collaboration prospects between "Nicolae Testemitanu" State University of Medicine and Pharmacy and the University of Bern
Collaboration prospects between "Nicolae Testemitanu" State University of Medicine and Pharmacy and the University of Bern
Collaboration prospects between "Nicolae Testemitanu" State University of Medicine and Pharmacy and the University of Bern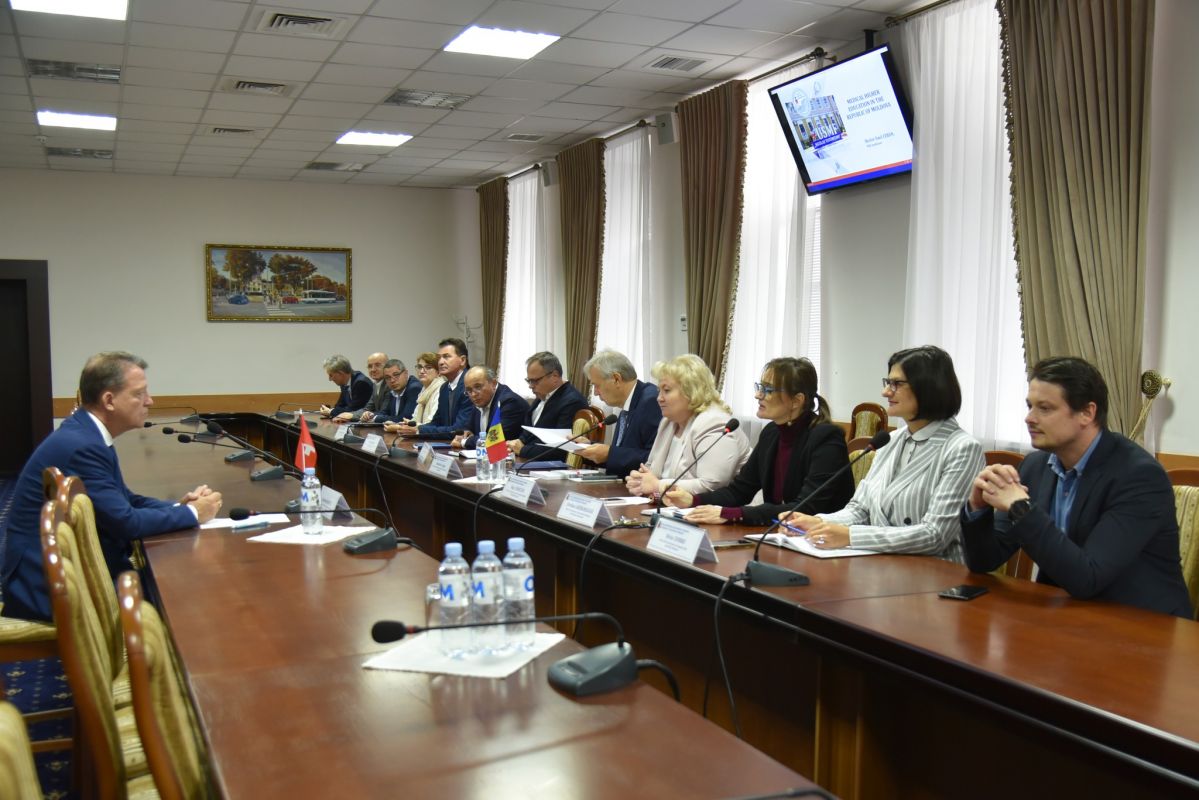 Claudio Bassetti, professor of neurology and dean of the Faculty of Medicine at the University of Bern, director of the Department of Neurology, University Hospital of Bern, Switzerland, paid an information and documentation visit to Nicolae Testemitanu State University of Medicine and Pharmacy from Moldova today.
The Swiss professor had a meeting with the representatives of the University's administrative team, discussions being mainly focused on the collaboration prospects between our institution and the University of Bern.
On behalf of the rector of the University, first vice-rector Olga Cernețchi greeted the invited professor: "You represent the university with the most advanced teaching and research technologies in European space. As the dean of the Faculty of Medicine, you are the most aware of the importance of integrating the teaching process with the research process." The first vice-rector launched the initiative to sign an inter-institutional collaboration agreement aimed at the transfer of knowledge and exchange of best practices in the areas of medical training and research, neurosciences, stomatology, biobanking and bioengineering.
Evelina Gherghelegiu, head of the Department of External Relations and European Integration, gave an overview of the education system structure in the Republic of Moldova, the faculties and study programs offered by Nicolae Testemitanu University, national and international accreditations, the infrastructure intended for training processes and medical research, affiliations to international bodies, institutional visibility worldwide.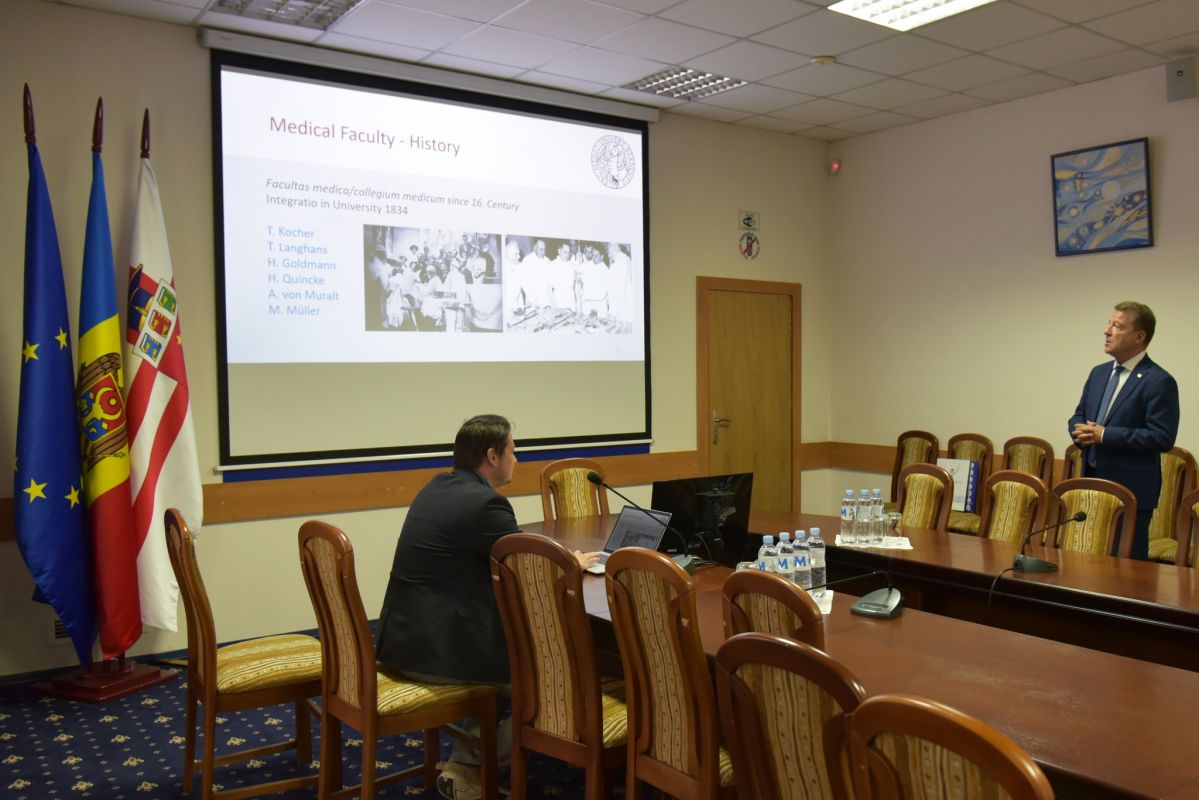 For his part, professor Claudio Bassetti delivered a brief presentation on the University of Bern, the Faculty of Medicine and the Swiss hospital system: "We believe that the future of medicine resides in the patient-centered research, we place great emphasis on education based on practical work, in this regard we have also launched a publication, but also several initiatives, we are continuously developing projects. In addition, we implemented a clinical doctorate focused on interaction with patients." Professor Bassetti mentioned that specialists from the University of Bern could share their experience regarding the creation of a university hospital and a university mental health center, as well as expertise in conducting patient-oriented clinical trials, etc.
The vice-rector for research activity, academician Stanislav Groppa, has emphasized that this collaboration will enhance the scientific activity in the field of neurology, streamlining the implementation of the concept of education through research at the university level.
During his visit to Chisinau, the Swiss professor has also held a public lecture on the topic "Sleep disorders in neurology" for members of the Society of Neurologists from the Republic of Moldova.
Professor Claudio Bassetti was president of the European Neurological Society, the European Sleep Research Society and the Swiss Neurological Society. He is the founder of the Swiss Federation of Clinical Neuro-societies. In 2018, he became an elected member of the Swiss Academy of Medical Sciences. He is currently the president of the European Academy of Neurology.
Preluarea informației de pe site-ul USMF "Nicolae Testemițanu" poate fi efectuată doar cu indicarea obligatorie a sursei și a linkului direct accesat pe www.usmf.md.