Noutati
New dimensions of collaboration between "Nicolae Testemitanu" University and Germany
New dimensions of collaboration between "Nicolae Testemitanu" University and Germany
New dimensions of collaboration between "Nicolae Testemitanu" University and Germany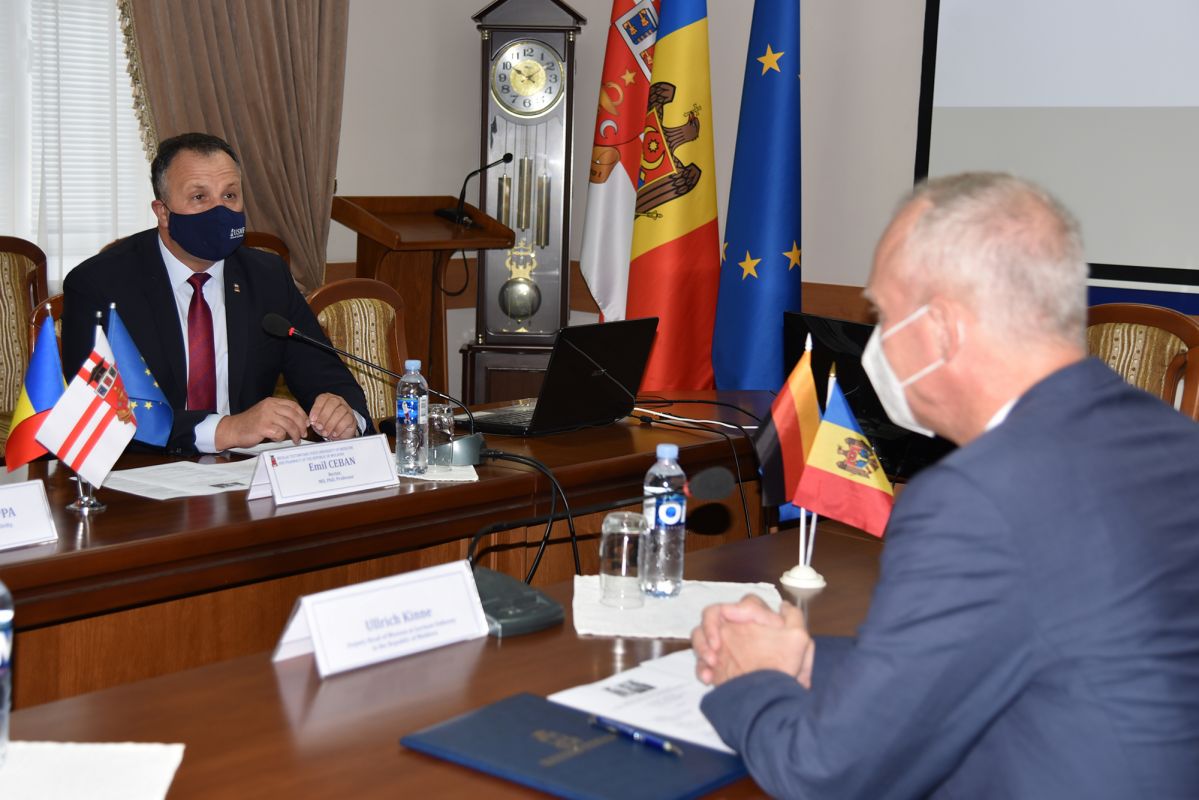 Nicolae Testemitanu State University of Medicine and Pharmacy attaches great importance to international collaboration, and German research centers represent a communication bridge in all areas of institutional activity: scientific, teaching and clinical. Currently, our university collaborates with medical institutions from Lubeck, Borstel, Frankfurt under various research, academic mobility, etc. projects. Many of the University's graduates have built a successful medical and scientific career and work in this economically developed country, at the same time maintaining contacts with Alma Mater. The statement belongs to Rector Emil Ceban and was launched during the meeting with Ullrich Kinne, deputy head of the Diplomatic Mission of the Embassy of the Federal Republic of Germany in the Republic of Moldova, who paid a working visit to Nicolae Testemitanu University.
The Rector emphasized that lately, the University had intensified its activities in the scientific field. Last year, a strategy was approved for the next 10 years in this regard. According to the document, one of the basic objectives is to modernize the research infrastructure in order to serve the research activity, education through research and create research and technology transfer infrastructures. "It is an ambitious project, that is why we need support from outside the institution, and even from outside the country", stressed Professor Ceban.
Academician Stanislav Groppa, Vice-Rector for Research, has emphasized that our university has historical traditions, but that it is always open to modern visions in research and medical education.
The Strategy for strengthening the field of research and innovation at Nicolae Testemitanu State University of Medicine and Pharmacy of the Republic of Moldova for 2020-2030 also envisages the development of international collaboration. Currently the University collaborates with 90 medical universities, faculties and research centers from over 28 countries, based on more than 145 agreements, including with many specialized institutions from Germany. In this context, the vice-rector expressed the desire to "continue this communication in order to strengthen the exchange of visions, ideas and to create new connections".
In his turn, the German diplomat Ullrich Kinne was pleasantly surprised by the experience of cooperation between Nicolae Testemitanu University and German institutions, describing it as a good sign. The German diplomat stated that he supported the academic and scientific exchange with Germany and asked the University about concrete benchmarks and aspects of cooperation.
In this context, the Research Department team launched several proposals to strengthen the collaboration by:
identifying partners for twinning projects and finding a model university in Germany, to transfer research and infrastructure strategies etc.;

identifying a consulting professor in German institutions, who could provide valuable information in various medical fields, over a period of time;

exploring possibilities of expanding sectoral programs in medicine and research education;

increasing the number of doctoral theses by co-supervision with representatives of German medical institutions;

providing opportunities to participate in research projects in Germany.
The meeting with the German official has been attended by Elena Raevschi, Associate Professor, Head of the Research Department, Lilian Saptefrati, Professor, Director of the Doctoral School in Health Sciences, Mihail Todiras, Head of the Research Center in Health and Biomedicine and other representatives of the National Institute for Health and Medical Research.
Preluarea informației de pe site-ul USMF "Nicolae Testemițanu" poate fi efectuată doar cu indicarea obligatorie a sursei și a linkului direct accesat pe www.usmf.md.