Noutati
"Nicolae Testemițanu" State University of Medicine and Pharmacy climbs 100 positions in "The Three University Missions" ranking
"Nicolae Testemițanu" State University of Medicine and Pharmacy climbs 100 positions in "The Three University Missions" ranking
"Nicolae Testemițanu" State University of Medicine and Pharmacy climbs 100 positions in "The Three University Missions" ranking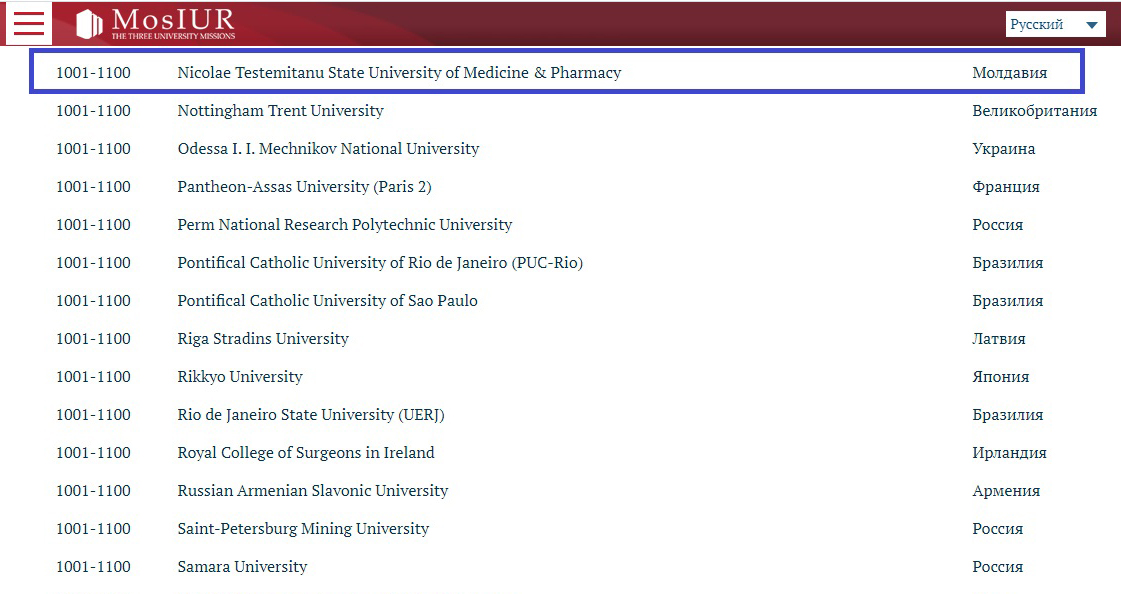 Nicolae Testemitanu State University of Medicine and Pharmacy of the Republic of Moldova has climbed 100 positions in the international ranking The Three University Missions (MosIUR) 2021, 5th edition. Thus, our university ranks 1001-1100, being the only educational institution in the country listed in this rating.
The ranking evaluates, based on 16 indicators, not only two missions of universities – quality of education (45%) and scientific work (25%) – but also, for the first time in international practice, their third mission – university and society (30%). This makes MosIUR one of the most representative academic rankings, as it uses innovative approaches, measuring the social impact of universities. 
As compared to last year, the number of universities has increased from 1500 to 1650 in the current edition of the ranking. The best 1650 universities of 97 countries were selected from a list of over 2000 higher education institutions from 119 states.
The Three University Missions, conducted by Moscow International University, is the first international university ranking that responds to changes in global education as a result of COVID-19 pandemic. 
Preluarea informației de pe site-ul USMF "Nicolae Testemițanu" poate fi efectuată doar cu indicarea obligatorie a sursei și a linkului direct accesat pe www.usmf.md.